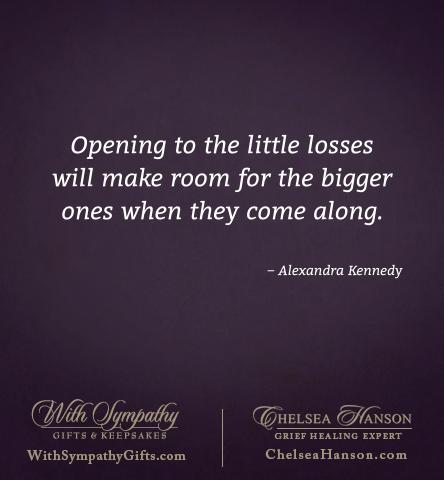 Dear Friend,
Michelle recently called me and she was frantic. She felt desperate because her Aunt Barbara had died, and Michelle didn't think she could handle it.
Michelle's mother died 12 years ago and her grief was not fully resolved. Michelle was not only grieving this most recent loss, but all of her other past losses.
She was experiencing cumulative grief.
You may have experienced many hurts over your lifetime, in addition to your current loss. When growing up, you may have lost friends, pets, possessions, houses, and even family. As you get older, you may feel the loss of youth, loved ones, and unfulfilled plans and careers.
These accumulated losses can be unfelt, unacknowledged, or unresolved.
Your past hurts cause a back log of unprocessed feelings. This cumulative grief from unresolved losses can make you unknowingly shut down from life, others, and yourself. This buried sorrow can erupt unexpectedly or be triggered by another loss.
Unresolved grief can be disguised as chronic pain, depression, or addiction.
The pain you feel may feel overbearing, yet familiar. The feelings you have now can be magnified or intensified by lingering, cumulative grief.
If these losses aren't addressed, they are underneath the surface waiting to be explode like a volcano when the next hurt hits.
What cumulative losses do you need to let go of?
Love,
Chelsea