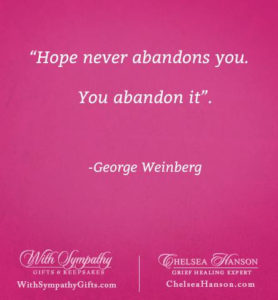 You might have categorized your life into two parts—before loss, and after loss. Someone you love has died and you have come to know your deepest sorrow. Inviting hope into your life may be the last thing on your mind.
You naturally experience helplessness and hopelessness. And to live in this place, you are learning to surrender to your sorrow, sit in your wound, and make space for healing.
Now is the time to nurture yourself and choose to believe in your natural capacity to heal. We all have this innate ability, but you may not believe it yet.
This is where hope helps…
Hope is the expectation of a good that is yet to be. There is a future that can't be seen, felt, or understood yet, but hope is an inner knowing that the future holds positive things.
You have the ability to consciously choose and cultivate hope at any moment.
Even when the challenges are unbearable, choose to hold onto hope for a reimagined future. Hope gives you the ability to rise in the morning and to know that today may be better than yesterday… and that there's possibility for an improved tomorrow.
First, believe in hope.
Second, never let it go.
Hang on when riding the rollercoaster of grief. Yell and scream all you want as you hit those curves, dips, and bumps of your sorrow, but, please don't let go.
Hang on…
Hang on to faith.
Hang on to love.
Hang on to memories.
Hang on to life.

You will integrate your loss into life and healing will occur. Hold on to hope that this day is coming. When you want to give up, that's the time to trust and surrender to a benevolent universe.
Hope will shine light in dark moments when it's welcomed in.
Try this daily grief healing practice: Cultivating Hopeful Gratitude
Begin to foster hope today, notice the small gifts of the day—a friend's consoling hug, the restorative power of a blue sky, the peace of a serene lake, or the laughter of a child. For tomorrow, observe one beautiful thing—perhaps a flower, a smile, or photo. For the next day, choose what you want to see.
Try to isolate an occasional wonderful moment in your daily grieving. Notice what you take for granted that can be appreciated, such as a roof over your head, your eyesight, or others in your life.
Focusing on what you are grateful for brings you into the present moment and that's where healing occurs.
If you spend too much time in the past or in the future, you risk missing what could be bringing hopeful light into your life right now. Practice bringing yourself into the present moment.
Daily Reflection
How can you invite hope into your life today?
Open your heart's hand to receive a touch of hope.
About Chelsea
Hi, I am Chelsea Hanson, author, grief support educator, and founder of With Sympathy Gifts and Keepsakes. I help people rebuild their lives after the death of the person they love while always keeping the spirit of the beloved close. To get help with your next step to heal after loss, contact me today or visit www.chelseahanson.com. Together, we will get you on the path to healing and feeling better.