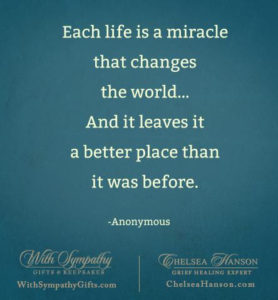 Noticing your heritage is a part of the grief healing process. When you are integrating the loss of the person you love into your life, there are many unique, albeit different ways to keep your loved one close to your heart. It can be an honor and privilege to discover ways to continue your unique relationship.
Use these exercises to notice your heritage and remember those you miss with love…
1. Listen to Words
Pay attention to the way you talk. You may surprise yourself with how closely your words resemble those of your deceased loved one. Did you and your partner finish each other's sentences? Did you and your beloved share the same tastes? Do you hear yourself saying the same expressions to your kids that your parent said to you? I noticed that I say the same goodnight expression to my son that my deceased mother, Donna, said to me. These words may bring your tears now, but the same phrases may make you smile later. Remember, it's okay for joy and sorrow to sit side by side.
2. Pay Attention to Voice
Have you ever been taken aback when you heard yourself say something in the same tone with the same mannerisms as your loved one? Did people constantly confuse you with your sibling when talking over the phone? If so, the sound of your own voice can remind you of your deceased loved one. For example, my nephew, Seth, has the same laugh as his deceased father, Waldo. Whenever we hear Seth laugh, my family members can't help but to think of his father. It now makes me feel good to hear that familiar sound.
3. Compare Photographs
You might not have noticed it previously, but you likely share a lot of the same physical characteristics with your parents, siblings and even more distant relatives.
Dig up some old photographs of your loved one and compare them to pictures of yourself. Look for similarities in the eyes, the lines on your face or the way you both smile. If you can compare your pictures at similar ages, you may be able to see the likeness more prominently. In addition to photos of your loved one, look at photos of relatives from your family tree.
What physical characteristics do you or your beloved have of other relatives, such as grandparents, great-grandparents, aunts or uncles. When I look in the mirror, I see features of both my mother and father.
What personality traits did you or your loved one inherit from relatives? Do you have any of these personality quirks? For example, I have my mother's sensitivity and empathy as well as my father's drive.
What stories do you remember about loved ones and how they lived their lives?
Are there any strengths or values you would like to emulate?
These questions are to encourage you to look backward and recognize the unique characteristics and strengths of the people in your family tree.
The resemblance you see in yourself and your loved one will keep the legacy of love close.
REFLECTION
1. What traits of your loved one do you have? Whether you have a lively sense of humor or curiosity about life, these are traits that are yours for a lifetime.
2. What gifts did you receive from your dear one? For example, did you receive the gift of unconditional love, a sense of confidence or the legacy of family traditions? These are yours forever.
3. What physical characteristics do you have of your beloved? Perhaps when you look in the mirror, you see your father's twinkling eyes or mother's beautiful hands? Maybe you have the same laugh as your sister or grandfather. Whatever it is, the characteristics are yours to enjoy and can be a wonderful reminder of your heritage.
4. What values did you learn from the person who died? Did you learn the values of honesty, integrity, compassion, family or love? These are lifetime gifts.
ACTION
Focus on all that was given to you by your loved one and immerse yourself in the feeling of being loved by him or her.
This feeling of love and gratitude for the things you received will strengthen your commitment to healing on the especially hard days of mourning.
Remember these are beautiful gifts you will have until you journey home to be with those who have gone before you.
About Chelsea
Hi, I am Chelsea Hanson, author, grief support educator, and founder of With Sympathy Gifts and Keepsakes. I help people rebuild their lives after the death of the person they love while always keeping the spirit of the beloved close. To get help with your next step to heal after loss, contact me today or visit www.chelseahanson.com. Together, we will get you on the path to healing and feeling better.